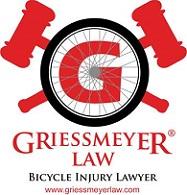 Thank you for considering Griessmeyer Law for your case.  I am a trial lawyer.  I represent injured bicyclists throughout Wisconsin. I am currently on the Board of Directors for the Bicycle Federation of Wisconsion-a statewide bicycle advocacy organization for the past 25 years with 5000+ members. As a fellow athlete, I am able to understand the impact of injuries upon people who love to exercise.  I have experience with bicycle injury cases ranging from traffic citations to permanent brain injury.  I have experience in various courts throughout Wisconsin and California. I am admitted as a lawyer in Wisconsin and California. In 2012, I received certification from the Wisconsin Department of Transportation for completion of the WI DOT "Teaching Safe Bicycling" course. I am currently studying to become a league of American Bicyclists certified bicycle saftey instructor.  I trained under Richard Duquette in Carlsbad, California who has handled bicycle injury cases since 1983 and I also trained under Gerry Spence-the greatest trial lawyer in America. I race bicycles and compete in triathlons and running races throughout Wisconsin and other states. I teach bicyclists about legal issues, and stay abreast of changes to Wisconsin Bicycle Laws.  My blog: http://www.madisonbikeblog.com is a resource of Wisconsin bicycling related laws, events, races, rides, and advocacy issues.   I  sponsor various local athletic events, bike teams, and contibute to Wisconsin Bike Fed, and Wisconsin Cycling Association.  Most importantly, I never represent insurance companies against injured bicyclists unlike many other large law firms do.  
Have you been hit by a car while bicycling? If so:
 

 

Do not give any statement to the insurance adjuster who calls you.  The insurance company for the driver will call you as soon as possible and seek a recorded interview.  This recorded interview will later be used as a basis for claiming you were at fault for the collision-even if the facts show you were not.  Insurance companies deny liability even when their insured is cited by the police and the bicyclist who gets hit is not cited.  By giving a recorded interview, you are making it easier for the insurance company to deny your claim.  Unless you have a contract with the insurance company who is calling (for example-uninsured or underinsured motorist coverage) you do not need to speak with them and you should not speak with them.  
Seek contact information from everyone at the scene.  Find out if anyone took cell photos or video.  Look for surveilance video in the area.  
Take photos of your injuries and keep taking photos as you are healing.  Once you are healed, it is easy for the insurance defense lawyer to allege you are faking your injuries and were not severely injured.  Photo proof is the best to show your injuries.
Do not repair or discard any potential evidence including your bicycle, clothes, and other equipment.  Keep track of all medical appointments, bills, dates, treatment, and how the collision affects your life and the lives of your loved ones.  
• Call a bicycle injury attorney immediately. Civil attorneys get paid based on a contingent fee agreement. Therefore it does not cost you anything to call and speak with a lawyer. Seek immediate medical attention and be 100% honest with your doctors. Your medical records will later be disclosed to the insurance company. If you wait to get treatment, the insurance company will say you failed to mitigate you damages.
Please call me anytime.  I am happy to provide free advice and always willing to meet with people at a location that is convenient for them.  My phone numbers: 608 320-6710 (Madison area) and 414-207-4426 (Milwaukee Area).